School Lunch for 35,000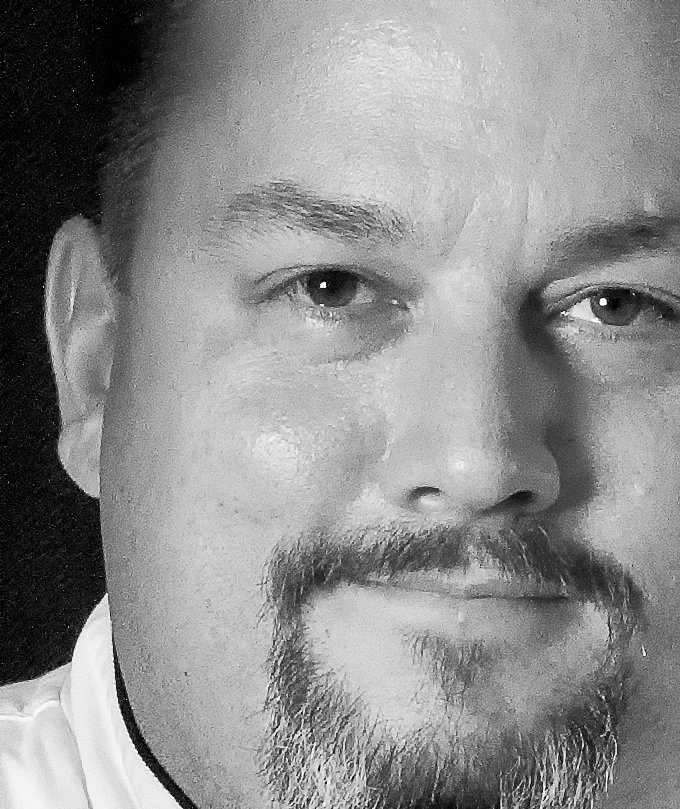 Jason Morse was following a narrow snow path to his neighbor's house for Sunday brunch.  It was one of those crunchy, my-breath-almost-froze-in-front-of-my-face Minnesota winters. The couple treated him like their grandson.
Using their finest silverware, silver pitchers and china they covered the large dining room table with pastries and salads, meats and vegetables.  It was all very elegant.
Jason watched his reflection move up and down on the side of a silver pitcher as he tilted his head back and forth. He asked his neighbor if he could help her in kitchen where the laughter and the aromas came from. Wow!  This is cool, he thought to himself as he worked alongside her.
Helping with Sunday brunch got him thinking about being a chef. His neighbor was the chef for the governor of Minnesota.  He was in sixth grade.
By the time he started high school he had worked in a starter restaurant job and wanted to learn more.  He found a local restaurant to sponsor him for credit through DECA (Distributive Education Clubs of America).  By the time he graduated he had become the youngest kitchen manager the local chain had ever had.
He moved on to a large volume conference hotel where the head chef mentored him for three years.  With support from his mentor, and grandparents he decided to attend the College of Culinary Arts at Johnson & Wales University, Charleston, S.C.
From there his career took him as a head chef to high-end hotels, restaurants, resorts and country clubs and landed him in Denver.  And then in 2010, he was one of seven head chefs from the Colorado Chef's Association, and more than 3,000 American chefs, invited to the White House by Michelle Obama for the kickoff of the "Chefs Move to Schools" initiative — an opportunity for chefs around the country to adopt a local school lunch program to help solve the childhood obesity epidemic within a generation.
MORSE
I was sitting there about five feet from Mrs. Obama and listening to her speech and I thought wow, I think I'm being asked to do something different with my career.
"We are going to need everyone's time and talent to solve the childhood obesity epidemic and our Nation's chefs have tremendous power as leaders on this issue because of their deep knowledge of food and nutrition and their standing in the community," Obama said.
Soon after I came back to Denver it was Christmas bonus time.  I'm driving home with my bonus from the country club where I worked and thinking about starting my own business.  I had gotten to a point in the country club world where working 80 hours a week was keeping me away from my two children.
So I took the money and formed 5280 Culinary, and became a consulting chef and developed my own line of spices.
Through the American Culinary Federation/Colorado Chef's Association, I got involved with the Wendy White at the Colorado Department of Agriculture and that led to developing recipes for their newsletter and local media.  I also work with the Beef, Potato and Lamb Councils.  I love agriculture.  That's like my niche in life.  I love going to the farms and helping.  I've worked on a dairy farm and in potato fields.  I wanted to know what life on the farm was like.
I've done recipes for eight years now for the Department of Agriculture's Colorado Proud program.  I also teach apprentice chefs for the Colorado Chef's Association Apprenticeship Program.
After the trip to the White House I met the folks at Douglas County Schools (DCSD) and began consulting with them to get the Chefs Move to School lunch program underway.  And then in 2011, I joined the staff as Executive Chef and we now plan and prepare meals for 74 schools — 35,000 meals a day.
TRIBUTARY
What's different about creating school lunch recipes?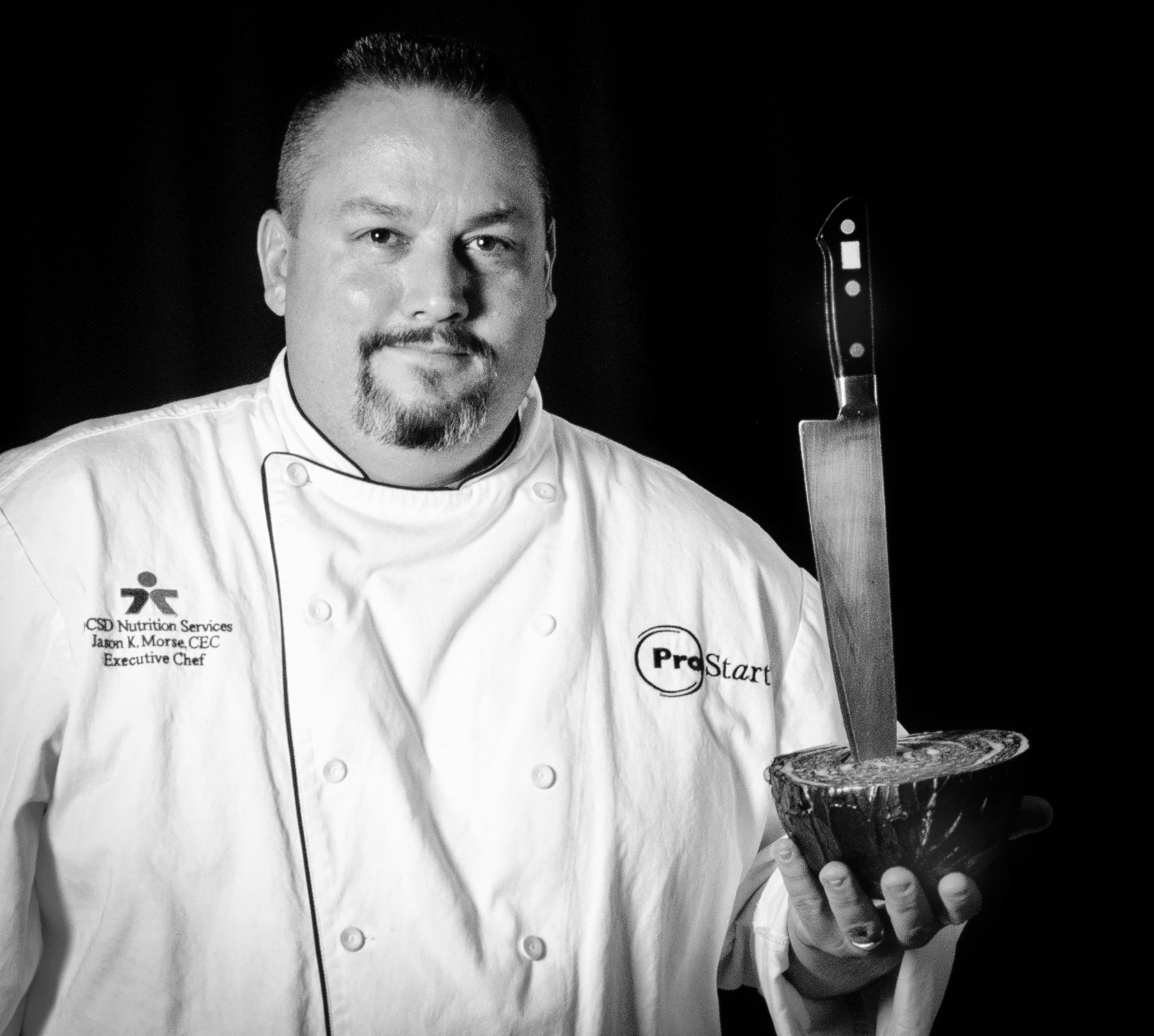 MORSE

Kid friendly.  Easy for parents to produce at home.  Chefs are notorious for 800 ingredients in a recipe and methodologies that people look at and say, What?

We need to keep kids in mind when we are trying to eat healthy and find recipes.  If mom can make it, and kids love it, that's a smashing success.

So I have to take a cool recipe that I want to do and make it work with fewer ingredients.  My experience with coming up with recipes for the various statewide agricultural groups has taught me a lot about writing recipes for consumers.

Prior to the Chefs Move to Schools program, schools were just serving meals.  Now, the staff does a wonderful job of getting inside the kid's head to figure out what they might like.  We're not happy just serving food.  We want kids to have a good experience and enjoy our product.

Who suffers when mom and dad are working and taking care of business are the children.  Kids are left to their own devices and mom and dad load up on what the kids want.  If I can have a student go home and say, I want what we had for school lunch.  Holy crap!  That is incredible.  There is no better rush for me than that.  Who tells their mom they want to eat the same food that they eat at school?  That is humbling.  That is a huge honor for me.

You would think that going to work for a school lunch program would restrict my creativity.  Well, it does not.  Kids come up with new games on the playground.  They are constantly crafting new things among themselves.  We are just like them and the kitchen is our playground.

Here's an example – grapesicles.  The kids said this tastes like candy.  It was just frozen grapes.  If you freeze a grape it tastes different than a fresh grape.  So I am always testing and trying to get better products and recipes for the consumer.  And here at DCSD, I have to work on keeping the kids interested in new tastes.  So I use my two kids (ages seven and nine) as testers for the school lunch program to see what they like.   They are brutally honest with me.

I just try all kinds of things, like the pickled cantelope recipe.  I held a competition with my 18 ACF apprentice students.  I was teaching them how to write consumer recipes.  Let's use cantaloupe and you can only use what we have here in the school kitchen.  You don't want to write recipes that people have to go out and buy 20 ingredients for because no one will do it.

They had everything from cantaloupe salsa to roasted cantaloupe.  One of my guys knows that I love everything that is pickled.  I love the complexity of it.  So he came up with picked cantaloupe.  So he knew his audience and wrote a recipe for that audience.

With my ProStart kids we developed a full artisan pizza line that was able to replace the commercial pizzas that were being brought in.  Now we do our own pizzas in the school lunch program and they have been beyond well received.

TRIBUTARY

Has this increased your budget?

MORSE

There is some federal reimbursement but the rest is up to us.  We still have to do this to make money.  We loose or make money literally by pennies a serving.  Imagine if the 35,000 meals we do a day cost 5 cents more.  That adds up in a hurry.  We did raise school lunch prices by 25 cents and have the support of the parents.  They are saying, this is what we want our kids to eat.  We need this change.

It cost money to eat healthy.  My family of four spends $600 a month on groceries.  If you want to buy junk food it's cheap because there is usually a bunch of garbage fillers in it.  It costs more to buy local rather than just accepting what gets shipped in.  The yellow squash I buy locally costs maybe twice as much as what I used to buy shipped in from California.

But now the local growers realize they have expanding local markets.  And what I see is that when people find out you are a Colorado company, they will buy locally.  Colorado is a wonderful place for supporting the local economy.

TRIBUTARY

There is a commentary about a culture from its cuisine.  Is our American cuisine shifting in relation to fresh food and home cooking?

MORSE

I truly believe our economy right now is righting itself because we have been foolish in thinking that everything has to be cheap, cheap, cheap.  Cheap means garbage.  You look at what other countries eat. They spend 20 to 30 percent of their income on food – fresh, wholesome, delicious and grown locally.  Then you look at us and I think the figure is 12 percent spent on food.  That contributes to childhood obesity.  Cheap food is not always healthy food.

TRIBUTARY

The grocery stores have greatly expanded their promotion of local produce.  What's going on?

MORSE

It's what the consumers want.  There is no better way to drive the local economy than to embrace and support the local economy.  These growers work their butts off to give us beautiful products.  We produce gorgeous things here and we want it to stay here.

Several years ago the San Luis Valley didn't grow enough potatoes to sustain our usage for a whole year.  When we (the Colorado Chef's Association) began talking to the growers they would ask, well what do you need from us?  We need an uninterrupted supply of potatoes.  If I am going to declare on a school lunch menu that we only serve Colorado potatoes then I better have Colorado potatoes year round.  Now we are sustaining potatoes for the whole year.  They reacted and have really increased their production for us.

TRIBUTARY

There are many recipe sources on the Internet.  Can you recommend a site or two?

MORSE

One of my favorite recipe websites is All Recipes. This recipe website is driven by the consumers, mom and gramma house maker that have been making their world famous apple crisp for 60, 80 years and now they are passing them down.  In general their recipes are simple and when you need some inspiration or that favorite blue ribbon state fair recipe, that's the place to go. I will take those recipes and tweak them to make them mine.  Like, I'm a vanilla junkie.  There is always vanilla paste in every kitchen I have ever had.  It's very complex and for me is the epitome of vanilla.  So I am always trying vanilla paste in my recipes.

______________________

A Happy Home
4 cups love 5 spoons of hope 2 cups loyalty
2 spoons tenderness 3 cups forgiveness 4 quarts faith
1 cup friendship 1 barrel of laughter
Take love and loyalty, mix thoroughly with faith. Blend it with tenderness, kindness and understanding. Add friendship and hope, sprinkle abundantly with laughter. Bake it with sunshine. Serve daily with generous helpings

 — from A Taste of Home.com

___________________

Recipe for carrot cake pancakes

Other Colorado produce recipes

Colorado Proud monthly Farm Fresh recipes

Middle Eastern Colorado Lamb sliders