A Mount Evans fixture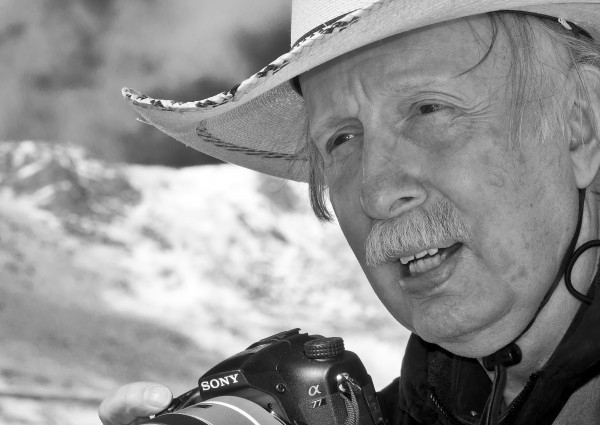 Karl Snyder has been driving from Boulder, Colorado (5,430 ft above sea level) to the top of Mount Evans (14,264 feet ASL) to shoot photographs ever since he got his first driver's license way back when.  The Forest Service rangers know him.  The staff at the Echo Lake Lodge know him.  And anyone who has searched the Internet for information on the trip up the highest paved road in North America knows his website. Coming out of the Ram's Room, (men's restroom. The women's restroom of course is named Ewes) he says good morning to Barbara Day, the proprietor of Echo Lake Lodge.  She ran the Crest House on top of Mount Evans until it burned in 1979 and before that the café and gift shop on top of Pike's Peak (14,110 feet). After the Army and college, Snyder moved to the Silicon Valley in California (sea level) working as an accountant, computer programmer and Internet startup entrepreneur. He did a lot of early work with bar code technology.  When his mother got cancer, he came home to Boulder. He started designing websites for lodges in Estes Park and that led to a new site promoting Rocky Mountain National Park (RMNP), which today has more than 300 pages.  In 1998, he started the Mount Evans site, which now has about 90 pages.   That effort brought him up the highway more than 20 times a year for the first two years.
SNYDER
I feel like an explorer every time I come up here.  I've been a photographer since I was ten.  You would think by now I have shot everything on Mount Evans that I can shoot.  But I think there are still 500 pictures I haven't taken yet.  Every time you visit, even the same place, the weather is different, the trees are different, the animals are different. By about June 20 the mothers and babies will be up here.  The kids are as cute as a button.  They play king-of-the-rock with each other, whatever animal games they play.  I love taking pictures of the babies.
TRIBUTARY
What do you tell people who have never been up here or are starting to take their photography more seriously.
SNYDER
I tell people to go as early as you can or late in the afternoon.   The really good light is in the morning since the route faces basically east.  That's when the bigger animals will be out.  Anytime between 10 a.m. and 4 p.m. up here the place is a zoo especially on weekends.  It's the same way in Rocky Mountain. I break animals up here into two categories.  LHMs (large hairy mammals) and CFCs (cute furry creatures).  LHMs typically eat early and sit down and chew their cud during the day, eat again before nightfall and then sit down.  They are most active during the first two hours of daylight and the last two.  And wherever they decide to sit down, they will just stay there and ignore humans until someone's bow wow bothers them.  I've been sitting on a rock and goats get so close I can't shoot them anymore because my lens won't focus. The bighorn sheep, as opposed to the mountain goats, will actually come up and bang on your car. People hand them Doritos or cookies, which is not good for them, but they will go up and beg for it.  So I honk my horn when I see people passing out goodies.
TRIBUTARY
And what do they do?
SNYDER
They give me the Boy Scout sign.  I don't mind.  A lot of people from Denver consider this their mountain.  When I first did the website people who contacted me were hostile.  "You're going to bring all the tourists up here.  This is our mountain."   Because of that they think feeding the animals is OK.  Their parents did it.  Their grandparents did it.  They feel it is their God-given right to feed the animals. One interesting fact about the goats.  They were imported.  This is the only place in Colorado where they exist in large numbers that I know of.  I think they were brought down from Yellowstone or Canada.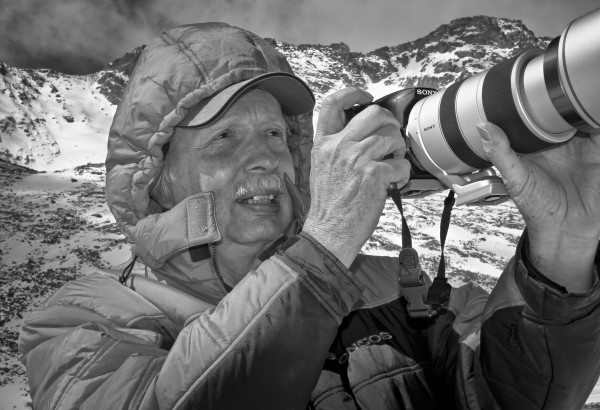 TRIBUTARY

You have explored many aspects of Mount Evans that no one else documents or discusses in their sites.

SNYDER

The Mount Evans website is a labor of love.  The Rocky Mountain National Park site is where I make my money.  I'm hosting about 70 websites for the Estes Park area.  I tried to do the same thing down here but the commercial setting is different. You know the original idea for the Mount Evans Highway was that it would be part of a peak-to-peak system from Long's Peak to Pike's Peak.  After building the road from Idaho Springs to the summit, the promoters gave up the idea.  This road was meant to drop over the west side to Grant on Highway 285 and continue to Pike's Peak. Some people say Mount Evans has the only true arctic tundra south of Alaska.  I'm not sure how you define tundra.  Is it the existence of permafrost?  I have to believe there are other areas. I've studied about the alpine zones, and the trees.  On the RMNP site I did a whole section on the trees and shot a lot of photos of the bark and needles.  Surprisingly in September and October that is one of my most popular pages.  I found out that colleges are using them for reference material because my pictures are so good. Many of the trees in the higher alpine area, say above the Mount Goliath Natural Area, are  Engelmann Spruce.  The pine beetle doesn't attack them like they do the Lodgepole Pines.  So we are going to have this green frosting all around the top of the timberline in areas where the Lodgepoles have been killed by the beetle. The bird watching here is limited to your normal five camp robbers which are the Stellar's Jay, the Clark's Nutcracker, the Gray Jay and Magpies.   Also the ravens.  Those are your big birds.  The rest are your basic small songbirds and God they are impossible to shoot even with a long lens.  You will see one on a rock and before you can even aim and focus they've taken off.  I have this desire to shoot more birds.  It is one of my 500 targets of opportunity.

TRIBUTARY

What keeps you so involved with Mount Evans and the website?

SNYDER

I define relaxation as total involvement.  I don't care if you are playing golf or skydiving or motorcycles.  If you are totally absorbed in what you are doing then you have the ability to relax.  Often when I am out shooting in the dead of winter I don't realize I'm cold until I get back in the Jeep.  My photography is my excuse to be in the mountains. I've had days where I've shot several hundred shots and I didn't have one keeper.  I started to look at what I thought I was doing wrong.  Now, I have my own rules of photography.  When I was in Korea (U.S. Army, Taegu area, 1973) we were out on a two-week exercise.  At the end of this the colonel of our unit got up and mentioned, not the 10 things we did wrong, but the ten things we did right and we should make sure we do them again next year.  It's that way for me with photography.  I will put a picture I think is good on my computer screen as the wallpaper.   If I don't get tired of it after two or three days then I consider that a good picture. When I am out looking for photos, I always have my long lens on the camera. Another rule.  Shoot animals at eyeball height or below.  If you shoot an animal above you, then he is more majestic.  A lot of times I don't even look downhill to see if there are shots. I often drive 10 miles an hour and if people get upset then they aren't on vacation yet.  I just wave them around. There is a phenomena I've discovered above timberline.  There are rock formations that mimic animals.  You'll find pika rocks or bird rocks.  You get a closer look and discover someone has put a rock on top of another rock.  I don't think they do it to actually imitate a bird but boys in the mountain only know how to do two things with rocks.  Throw 'em and stack 'em. (Pointing at rocks on the edge of the road) Now most kids know what kind of rocks these are.  Do you?  They are "leaverrights" because mom has told you more than once to, "Leave 'er right there." I usually set my camera on burst mode (multiple shots in a row).  I don't know how many times I have shot single shots of animals and I get him with the jaw twisted sideways, half a tongue hanging out or an eye closed.  So now I just do a burst of three to eight pictures and in one of them you will get a good expression on the face. The other thing I do after a day of shooting photos up here is stop at the lodge for one of their seven homemade pies.  My favorite is cherry.

 __________

Mount Evans, Colorado

There is a spirit in the upper air That does not travel to the earth below, But frequents mountain tops, and dwells alone. Those who venture here have been aware For years of something palpable, although Invisible. It lingers in the zone Above the trees, where visitors are rare And even in high summer there is snow Along the slopes, and ice upon the stone. I do not believe that it would care If all the world had perished long ago, So long as it could call these peaks its own. — By Stephen Lefebure, Evergreen, CO

from Wilderness (2000)

_______

RELATED LINKS

Karl Snyder's Mount Evans Website

360 degree panoramas of Mount Goliath Scenic Area and Mount Evans CDOT daily Mount Evans open/close report How to photograph mountain goats by Jay Ryser Mount Evans Ranger Talks Schedule Today's weather forecast for Mount Evans Slide Show – August Morning on Mount Evans Historic postcards of Mount Evans Albert Bierstadt painting in the Mount Evans area Thad Roan's photo of Bristlecone Pine Creation of the Castle in the Sky Friends of Mount Evans and Lost Creek Wildernesses  Mount Goliath wildflower tours by Denver Botanic Gardens Growth increases for Bristlecone Pines Long lens and digital camera rentals in Denver Early photography by visitor to Summit Lake Please buy these recommendations from our Sponsoring  Bookstores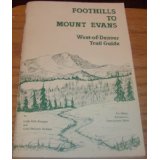 Foothills to Mount Evans.  West of Denver Trail Guide by Linda Wells Ringrose – 1980
To be a person is to have a story to tell.   – Isak Dinesen.
QUESTIONS FOR READERS
1.  What have been some of your most interesting experiences on Mount Evans?
2.  What are your personal thoughts about spending time in the alpine region above timberline on Mount Evans?
3.  If  you have attempted to ride your bicycle to the top what was it like?
4.  What hiking trails on Mt. Evans are your favorite?
 Please respond using the Share your thoughts section below.
SUPPORTING TRIBUTARY
Opt in.  If you enjoy our work, opt in by giving us your email.  This simplifies the notification effort for the next edition.  No fees. Total privacy.
Please share this article with your friends.  Word of mouth is our most reliable resource.