Cowboy rhymes with thyme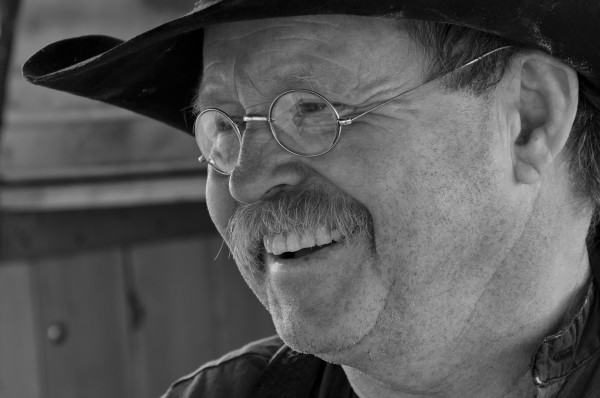 Cowboys driving cattle after the Civil War cooked on hot, smoky coals and recited homemade poetry.  They flavored their beans with molasses and stories.  The chuckwagon was the kitchen cabinet.  Poems were the entertainment.  Mix in some rain and dust, add a heavy dose of lonesome, and a pinch of Irish storytelling, Scottish seafaring, Mexican horsemanship and African improvisation and you have the original recipe.
John Schaffner uses that recipe for his chuckwagon dinners.  He learned cowboy poetry as a child from an 85-year-old cowboy. He cooks potatoes, biscuits and peach cobbler in cast iron Dutch ovens covered with coals. He measures his coffee by the handful and uses an old whiskey bottle as a rolling pin, an historic detail he learned from other chuckwagon cooks, nicknamed "coosie."
Schaffner cooks for family reunions, company parties, trail rides and charity events.  To reach him you have to do it the traditional way with a telephone. He doesn't have a website. By the way he was the official cook for John Wayne's 100th Birthday Celebration at his birthplace in Winterset, Iowa, in 2007.
The poet cook was born in Ferriday, Louisiana on the Mississippi River.  The town is the birthplace of Jerry Lee Lewis, Mickey Gilley and Jimmy Swaggart.  Schaffner now lives in Wray, in northeast Colorado.
TRIBUTARY
How did you get started doing chuckwagon cooking?
SCHAFFNER
I got into the chuckwagon absolutely by accident.  I was at a farm sale about 20 years ago and they had an old farm wagon.  I told my wife I'd love to have that wagon.  I ended up getting it bought pretty cheap.  So we took it home and I put in the yard kinda like a yard ornament.  A couple weeks later a friend drove by and said you know what, I've got a chuck box from an old chuckwagon.  We ought to put that in the back of the wagon.
I told my wife if I'm going to have a chuckwagon, I'm going to learn to cook.  So I started practicin'.  I burnt a lot of biscuits.  I tell people I made a lot of hockey pucks.  Anyway I was just playing around for the fun of it.
One day a neighbor who had seen me cooking by the wagon asked me at church if I would be interested in cooking for the volunteer recognition banquet for the Head Start Program.  She figured there might be 35 people.  So I said I would do it.  She called back in a couple of weeks and told me the reservations were up to 75.  She asked me if I would still do it.  Well the cowboy way is that if you tell someone you're going to do something, you do it.  So I got my friend who had given me the chuck box and his wife and my wife pitched in and by just pure luck we turned out a pretty good dinner.  About two weeks later somebody who'd been at the cookout called and wanted to know if I could do a chuckwagon dinner for a family reunion.  From there it took off.  We really have never done any advertising.  It's all word of mouth.
A few years after that I was real fortunate to get acquainted with Michael Martin Murphey and we became real good friends so now I cook at a lot of his events.  I don't sing.  I tell people I got a lot of music in me but none of it has ever come out.  I'm a prison singer – always behind several bars and never have the right keys.  Michael Martin Murphey says that the two of us work well together:  "I don't cook and John doesn't sing."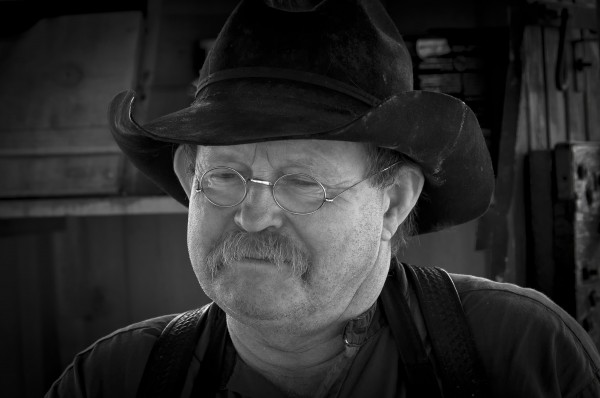 TRIBUTARY
Where do you get your recipes?
SCHAFFNER
I always try to cook things that were authentic to the trail drivin' days.  My most popular meal is beef tips with gravy.  I do cowboy potatoes in the Dutch oven.  And you gotta have beans.  That was just a staple on the chuckwagon.  Cowboys called 'em "whistleberries."  If you think about that long enough you'll know why they called 'em whistleberries.
TRIBUTARY
And the poetry, how did you get started there?
SCHAFFNER
As a kid growing up in Louisiana I was fortunate enough to meet an old gentleman, a guy by the name of Carter Wailes.  Most of the people in the area knew him as "Deacon" Wailes.  He was a deacon in the Methodist Church.   He was 80 something years old when I met him and I was 12 or 13 years old.  He was an old cowboy.  He had cows until the day he died and he died out in his pasture one day.  He always told me he wanted to die with his boots on and that's what he did.
He was born in 1882 near Ferriday.  I tell people I'm a millionaire many times over not for what I got in my pocket but for what I've got in my head and my heart, the things that I learned from Mr. Wailes.  He was teaching me to cowboy but he was also teaching me life skills.  We did a whole lot of cattle work and put up a lot of hay.  He told me if I was going to work cattle I had to learn to think like a cow.
I didn't know at that time that he was writing some poetry.  When I was in high school I hated writing poetry.  I was real shy at the time and didn't want to get up in front of the class.  The poetry he wrote he just put in a dresser drawer.
I started about 25 years after I got out of high school.  I heard other cowboys tell stories and I had a few ideas of my own.  One of the first poems I wrote was about Mr. Wailes.  His second wife was still alive so I sent her a copy of the poem.  She sent me copies of some of the poems he had written.  Every poet has a certain style and the uncanny thing is that my style of writing and his are almost identical even though I had never read any of his poetry.  But there was something about our time together and the things he taught me that carried over.
I not only recite my own poetry but I have memorized a whole bunch of the old classic poems that were written back during the cattle drive era by Henry Herbert Knibbs, S. Omar Barker and Badger Clark. All from the late 1800s and early 1900s.  Knibbs was actually not a cowboy but a hobo that spent a lot of time in cowboy camps.  He actually published four books of cowboy poetry as well a bunch of novels about hobos.
TRIBUTARY
You told me you've memorized about 100 old cowboy poems.  Why memorize so much?
SCHAFFNER
Well I like to say them to myself when I'm out driving cattle or in my pickup.  Cowboy poetry is not a written language.  It has to be spoken.  I get more out of listening to a cowboy recite a poem than I do just reading it.  His personality comes through, inflections change.
TRIBUTARY
It seems like a lot of people are today doing cowboy poetry today.  Do some of them do it badly?
SCHAFFNER
Well their heart's in the right place.  There's people who have never lived the cowboy life that try to write poetry. I think it's a lot harder for them to really put the feeling into it.  If you haven't been out there on a horse and had a wreck and been busted up and haven't taken care of cows and watched the baby calves be born, you cannot put that feeling in a poem.  I can pretty much tell whether they've been out there or whether they're just reading it out of a book.
TRIBUTARY
What is it about the cowboy life?  The cattle drive era only lasted about 20 years but the heritage lives on.
SCHAFFNER
It's just the fact of the Cowboy Code, the code of the West.  When you tell somebody you're going to do something you do it no matter what it costs ya.  It's one of those things that just born into you.  There's just something about that way of life that people want.  The closeness to nature.  There's absolutely nothing in the world like sittin' on the back of a horse all day long;  sleeping out under the stars at night.
I wrote one called "Full Moon in the Cowcamp" it was written about a time we were out doing branding.  The neighbors would come and help.  You get out in the middle of nowhere where there's absolutely no electricity, no light and you can see the stars and the moon very clearly.  So I woke up at midnight thinking I'd overslept but it was the full moon that was so bright that we could have actually gotten up and gathered the cattle in at midnight.
TRIBUTARY
You also do some preaching from time to time?
SCHAFFNER
I do a cowboy church service but I'm not a preacher.  My dad's a preacher.  I do some fill in preachin' at our church.  I like to preach and I always do a short one.  Cowboys have a short attention span.  I recite some of my gospel-type poetry.  I tell people that just like we like to watch our kids and grandkids have fun I think God enjoys watching his kids have fun.  You can't have more fun that being a cowboy.  He puts cowboys out there to watch the animals.  Cowboys have a dry sense of humor.  After a bad wreck on a horse it's maybe not very funny but after you've recovered from it you can look back and make a humorous story about it.
John Schaffner's phone number – 970-630-3402
Order CDs directly or schedule a cookout.
POEMS RECITED BY JOHN SCHAFFNER
RELATED LINKS
Chuckwagon cooking and recipes
Colorado Cowboy Poetry Gathering
Durango Cowboy Poetry Gathering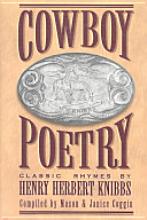 Cowboy Poetry by Henry Herbert Knibbs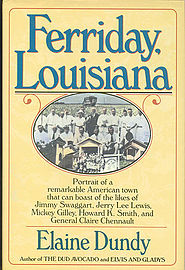 Ferriday, Louisiana.  Portrait of a remarkable American town…


Shop Indie Bookstores
QUESTIONS FOR READERS
1.  Do you have a chuckwagon recipe you could share?
2.  What is it about being a cowboy that fascinates us?
 Please respond using the Share your thoughts section below.
SUPPORTING TRIBUTARY
Opt in.  If you enjoy our work, opt in by giving us your email.  This simplifies the notification effort for the next edition.  No fees. Total privacy.
Please share this article with your friends.  Word of mouth is our most reliable resource.